Choosing the right solution can be daunting. Follow our guide below to make sure you have all bases covered
Choosing the right data centre is a crucial decision that can significantly impact your business's operations, scalability, and security. With many businesses - especially those in the small to medium space - lacking in-house technical expertise, it can be difficult to navigate this choice.
However, we believe in a fair market, where customers are equipped with the right information to make the decision that's best for them. That's why we've put together a comprehensive set of criteria to guide you through the essential considerations when choosing your next solution. Whether you're looking for optimal performance, cost-effectiveness, or advanced security features, our guide will provide you with the insights you need to confidently select the data centre solution that meets your specific requirements.
Scalability

Do you foresee your infrastructure requirements expanding in the next few years? And are you prepared for any unforeseen circumstances which may require more computing power? Having a data centre that can easily scale in line with your changing needs is a necessity.

Performance

Only a few years ago, network connectivity lag would have been an acceptable fact of hosting services. Now there are a range of options that mean a delay in hosting is no longer acceptable, so understanding your performance requirements is essential.

Metrics

Not all data centres are created equal, and different criteria such as tiering systems, and ISO 27001 & PCI DSS certificates can make performance hard to understand for those without industry knowledge. Metrics such as uptime can prove essential indicators of a DC's overall performance. Ask the hard questions: "when was the last time you had downtime?"

Geographical location

In years gone by, London was seen as the be-all and end all for a data centre's location. However, with developments in fibre cabling and other forms of infrastructure, location is no longer a limiting factor. Data centres in the commuter belt can align with your business's connectivity and disaster recovery needs, while costing less than more expensive locations.

Security & compliance

With high-profile data leaks consistently occurring, security has never been a higher concern for business leaders. While there are ample detection systems that can prevent technical breaches, an area that often gets overlooked is a data centres vulnerability to physical intrusion and the security of its OT. Make sure when checking facilities that traditional security measures can keep out intruders too.
---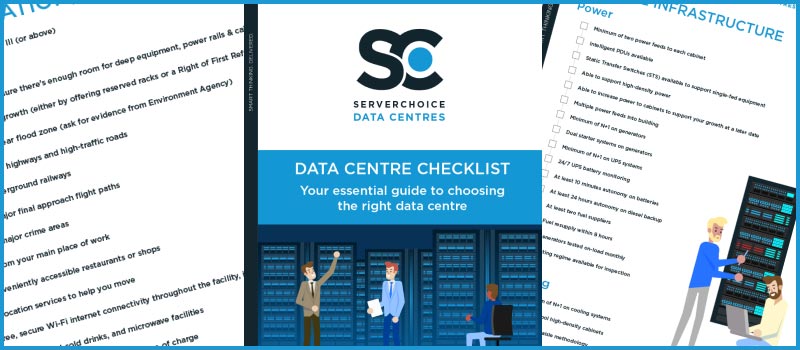 Using the ServerChoice Data Centre Checklist
We want all customers to be best informed, so they're able to ensure they choose the service that's right for them. That's why we created our data centre checklist, providing an invaluable tool to make sure all bases are covered during your decision-making process.
You can find the comprehensive list here, but we've highlighted some key points from the checklist below:
Power and cooling: Ensure the data centre possesses redundant power sources and efficient cooling systems to avert downtime caused by power failures or overheating.
Disaster recovery: Assess the data centre's disaster recovery capabilities, including backup solutions and failover mechanisms.
Compliance: Verify that the data centre adheres to industry standards and regulations pertinent to your business.
Environmental considerations: As sustainability gains importance, explore data centres that follow green practices and utilise energy-efficient technologies. Not only does this contribute to a healthier environment, but it can also lead to cost savings in the long run.
Opting for the ideal data centre solution for your business is a task that demands strategic thinking. By following the ServerChoice Data Centre Checklist, you'll be able to gain a comprehensive understanding of a facilities requirements guide, and be well on your way to selecting the solution that will propel your business towards success.